Bible journaling with household objects. That just sounds fun, doesn't it? In our first post in this series, we played with Q-tips and paint. Today, we are moving to the kitchen! Yep! Today, I am sharing a few simple and easy Bible journaling techniques using tea, forks and napkins! Yes! We will be painting with tea!
(Did you miss the post on Bible journaling with Bottles, Bubblewrap and toothbrushes? Check it out here).
Let's get started, shall we?
Bible Journaling with Household Objects: Project 1 – Tea
So what's this about tea and Bible journaling?
Tea is fantastic for making your pages and projects look aged. For painting with tea, all you need is:
a cup
a teabag
water
paintbrush
(Don't forget – for all of these techniques, you'll want to prep your pages in clear gesso first!)
Once your page is prepped and dry, take a cup and add a teabag with about 1/4″-1/2″ of water and microwave for about 30 seconds.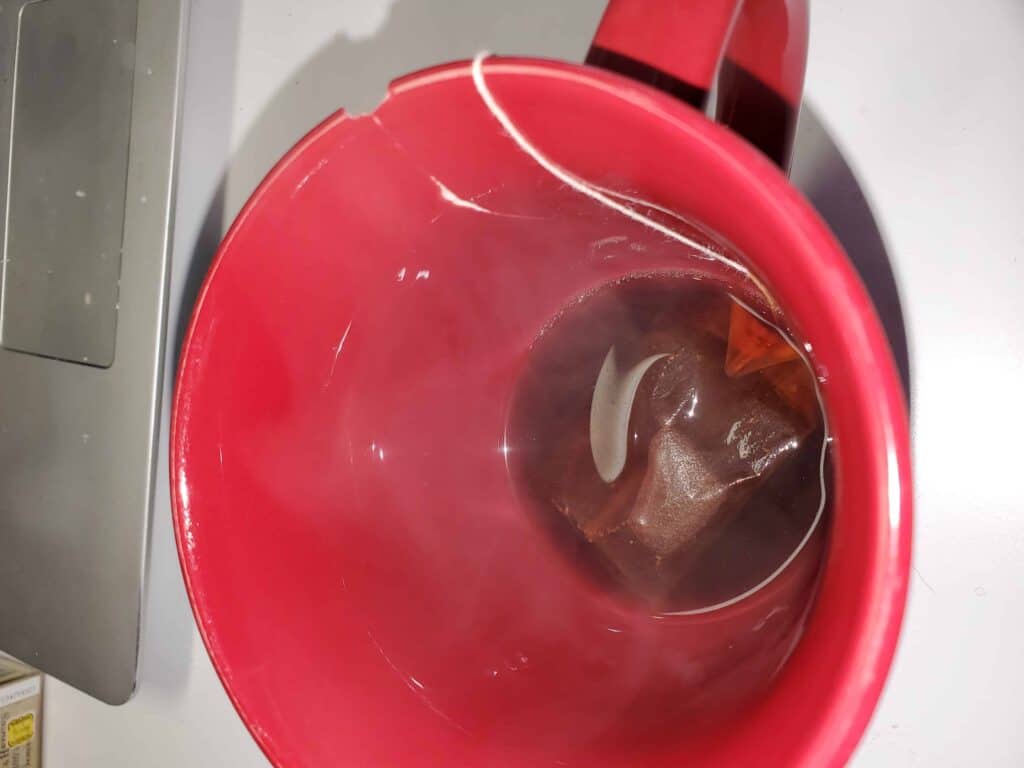 Then "paint" your page with the tea.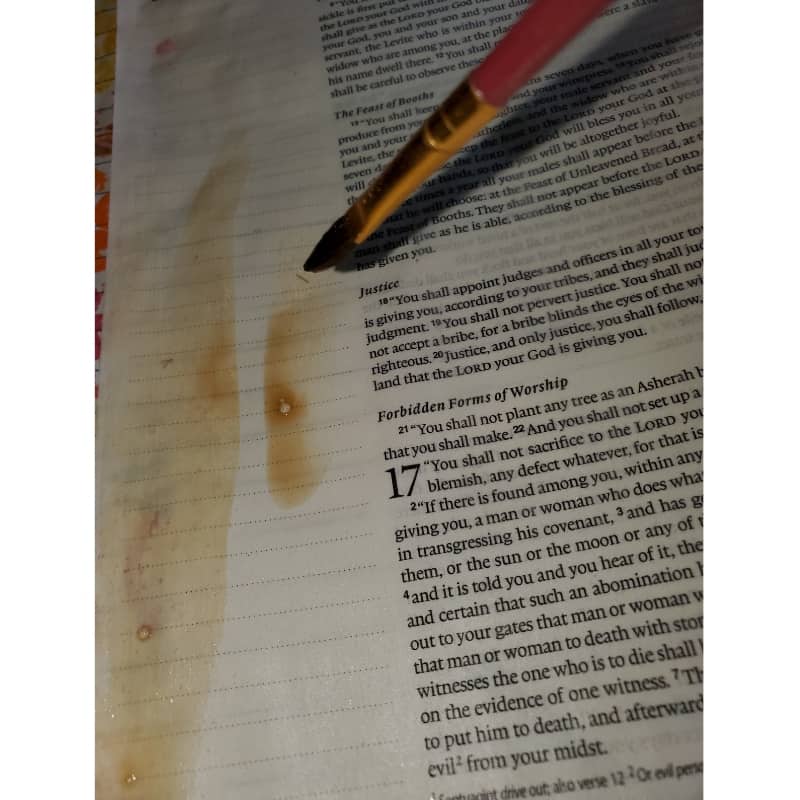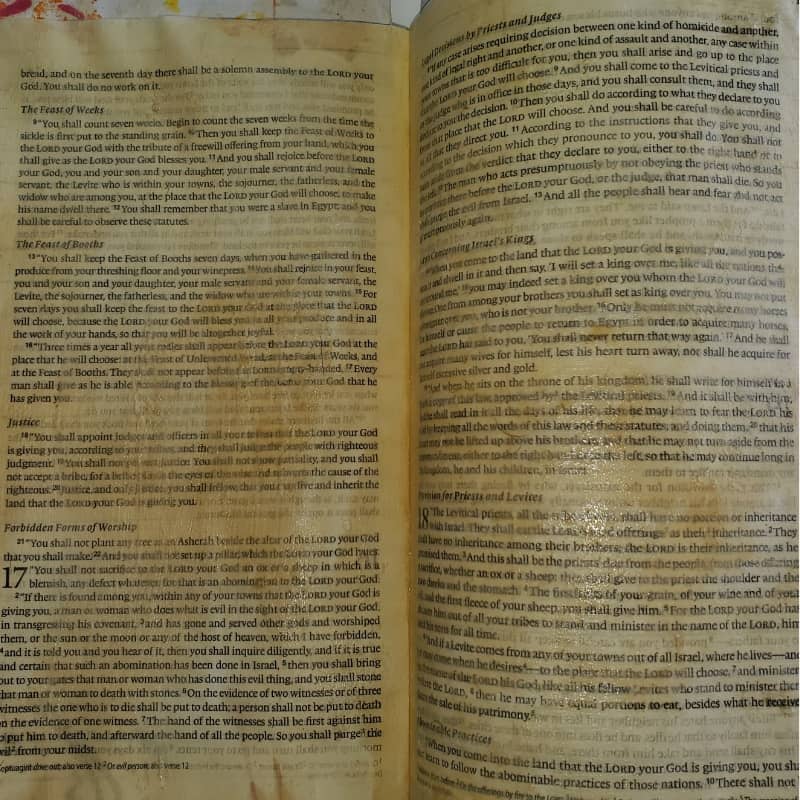 Next, you'll want to use a paper towel to dab on the page. The dabbing will do two things: 1) "sop" up the excess liquid and 2) leave interesting marks or patterns in the tea stain.
Here, I used a heat gun to dry the page completely, but you can let air dry, as well.
I, then, used a pencil to draw a scroll around the double page then went over the pencil drawing with a thin black marker. My favorite it the Fude Ball pen – I looove this pen and included it in my post on the best pens and markers for Bible journaling.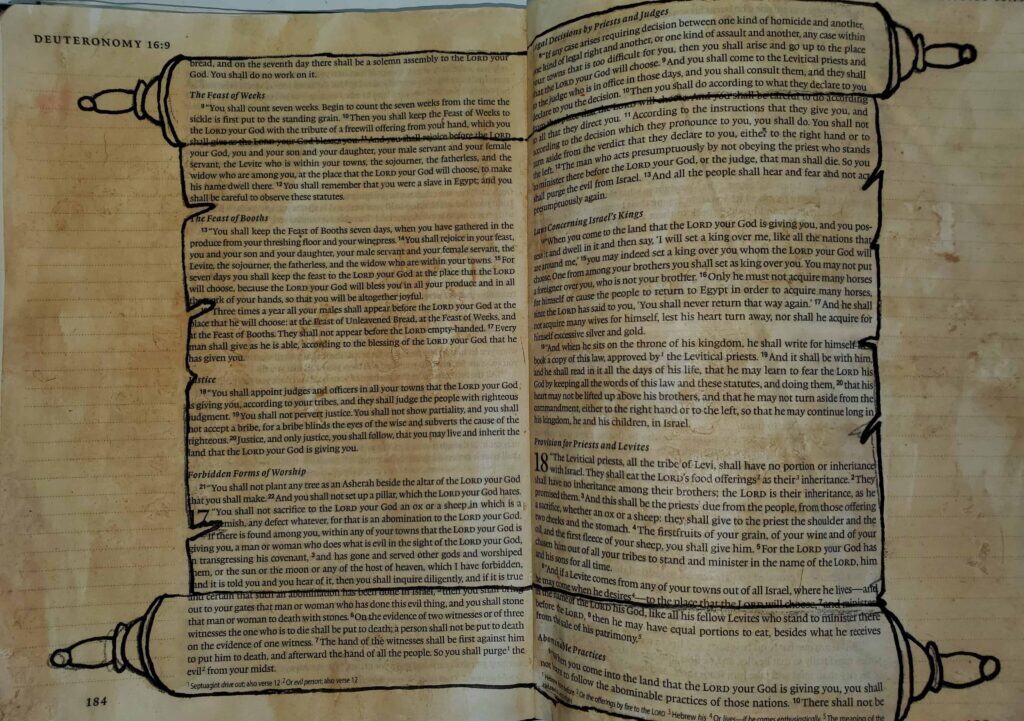 Finally, I added some text from the verses on this page.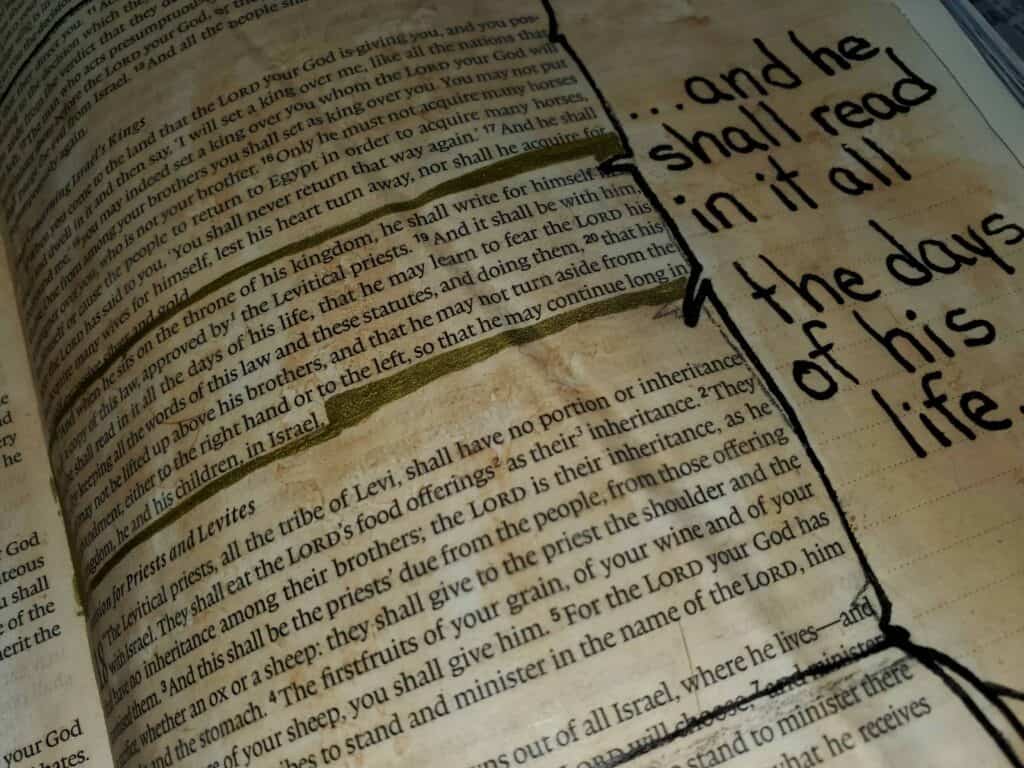 I may add a few more details, but here is the mostly finished page spread.

In hindsight, I probably should have just painted inside the scroll with tea, but hey, it's about worship not gallery worthy art, right?
Bible Journaling with Household Objects: Project 2 – Napkins
This technique is fun and easy and will turn out different each time. All you need are:
Decorative napkins
Decoupage
Paint brush
I buy my decorative napkins from the dollar store or party store. There are so many to choose from. For this page, I chose a napkin that had large, bright and cheery flowers.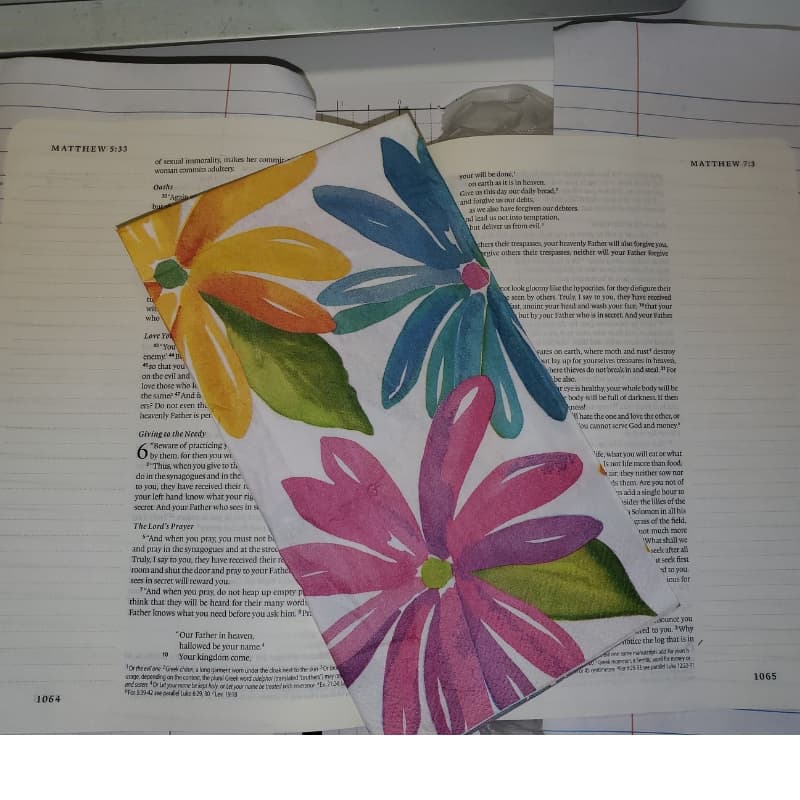 Next, I cut out the flowers that I wanted to use (Tip: Keep the napkin intact when you cut – you'll separate the plys or layers later, but it's much easier to cut with all the layers intact).
Then, paint a layer of decoupage where you plan to place the flowers. It helps to cut the flowers then lay them out on the dry pages, first. Once you are happy with your placement, then add the decoupage. (As you can see in the pic, my brush was coming loose and left behind bristles. I removed those and then promptly purchased brushes that I've had my eye on!)
(Whenever I do any Bible journaling, particularly any with wet media, I slide scrap paper behind the page I'm working on to prevent any bleed through or pages sticking together.)
At this point, you can separate the plys or layers of the napkin and lay the cut outs in place on your page spread.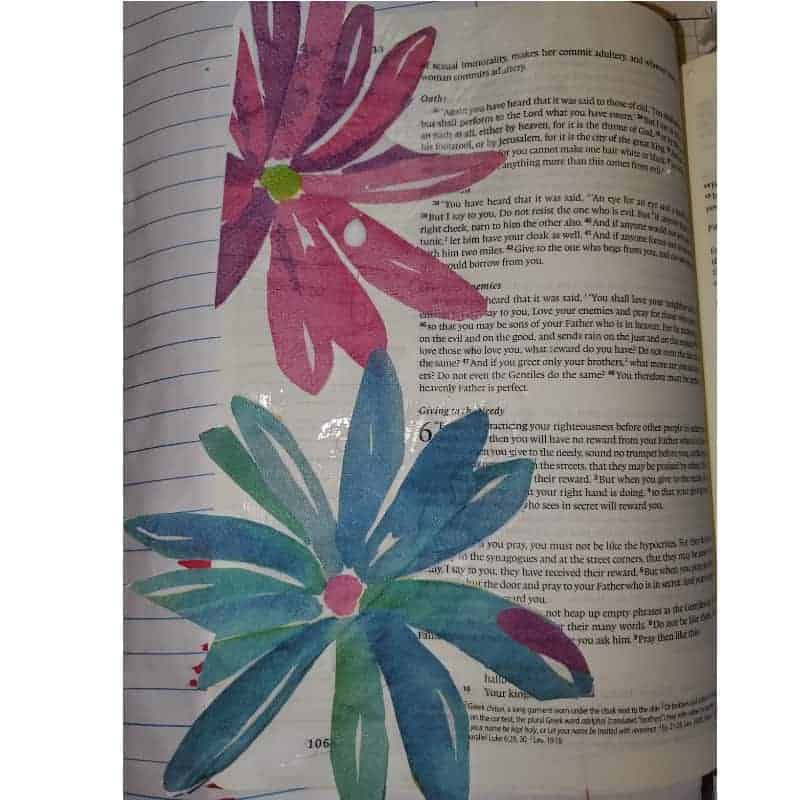 Smooth the napkin cut out with your fingers to remove any wrinkles. Then add another coat of decoupage over all.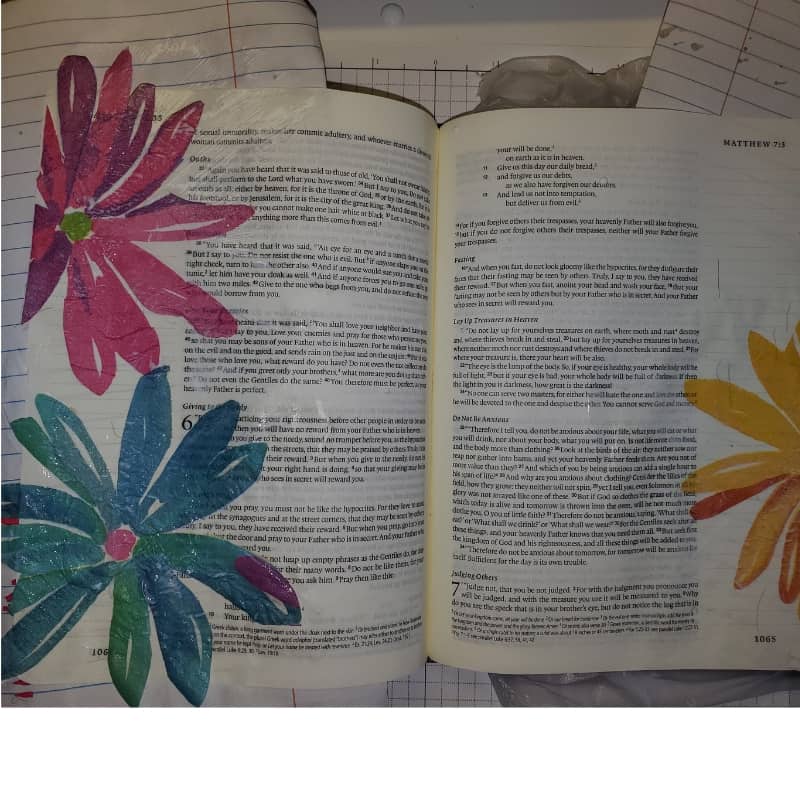 Let the page completely dry before adding the finishing touches. I used a heat tool to speed the process (I can be a bit impatient 🙂 )
Once my page spread was dry, I used the Fude Ball Pen to draw around the edges of the flowers to make them stand out.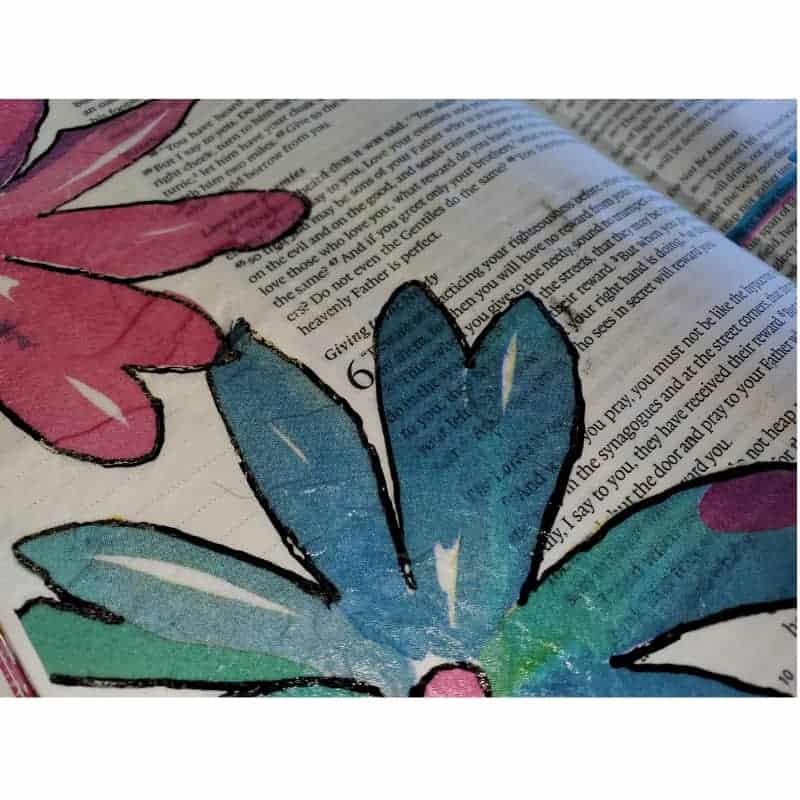 Finally, I added some text by pulling out some of the page's scripture that called to me and highlighted the verse with marker. This page is not done, but it's off to a good start with the napkin decoupage.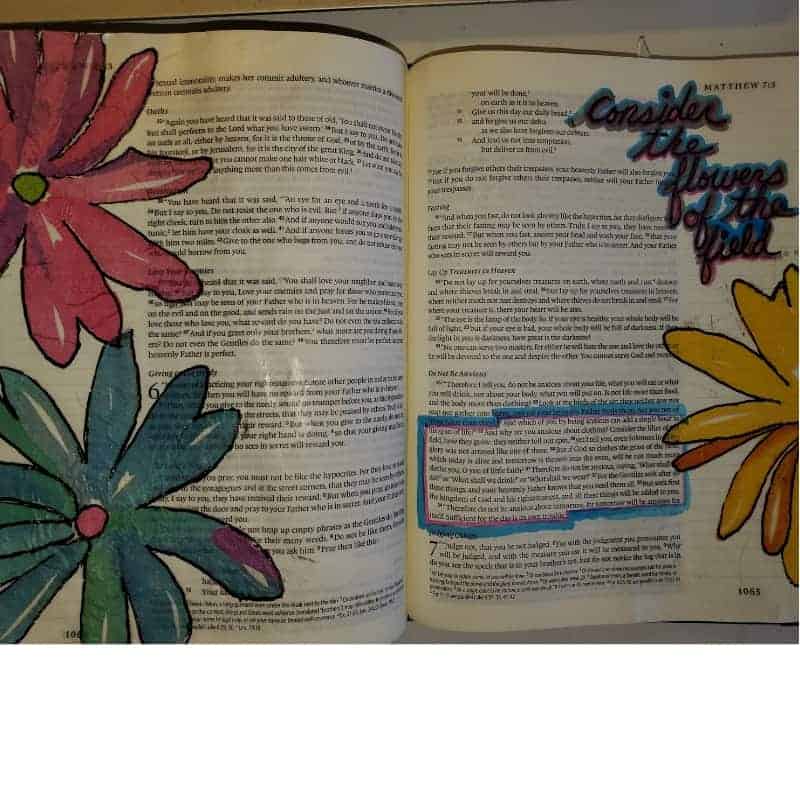 Bible Journaling with Household Objects: Project 3 – Forks
For our final project today, we are digging into the utensil drawer. Yup! We are using forks! You can use metal silverware or plastic. I used both on this page, but you'll want to test the fork pattern before you go right to your Bible. Some fork tines are not even with the others which will give you an uneven print. Test on scrap paper, first.
Depending on how you use the fork, you can get a ton of cool patterns using just paint. I'm sharing just a few on this page, but have fun experimenting and trying new ways to hold the fork to get different patterns.
Of course, like all other pages using wet media, you'll want to prep your pages with clear gesso first.
For this project, I used two forks (one plastic and one metal) and blue, red and silver acrylic paint on my paper plate palette.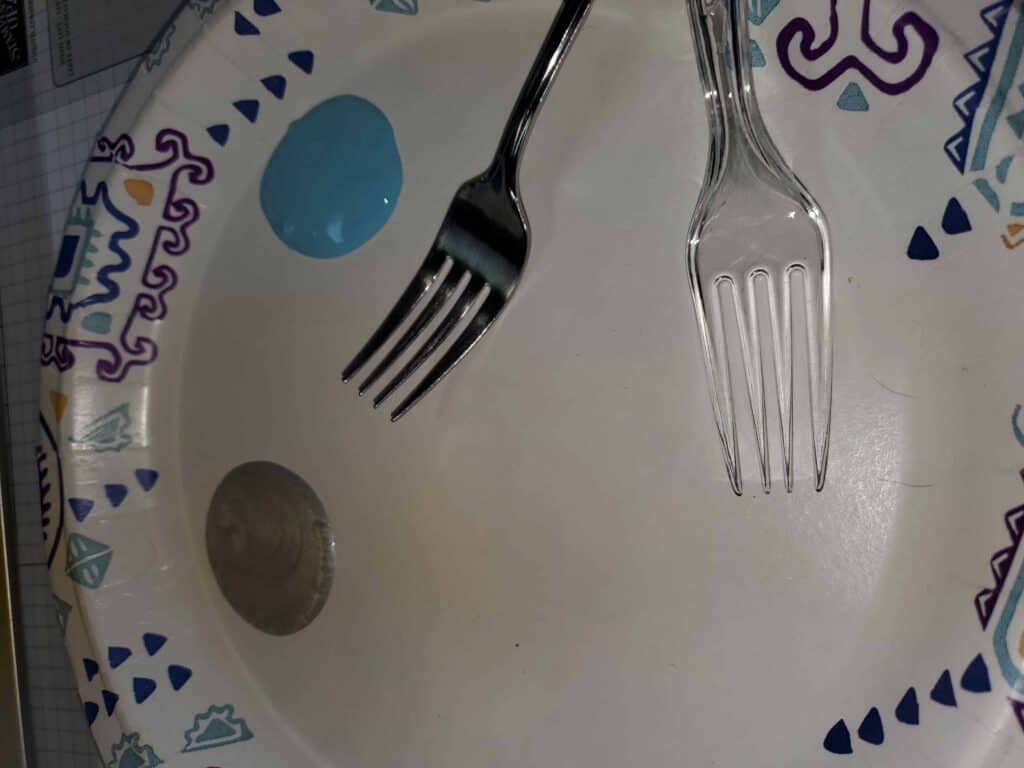 I started by dabbing my plastic fork in the blue paint and stamped off excess paint, then stamped on my Bible pages holding the fork sideways. I stamped the same pattern (as well as color and direction) leaving space in between the patterns for my next fork stamp.
(Note the scrap paper underneath the page to prevent a mess or pages sticking together).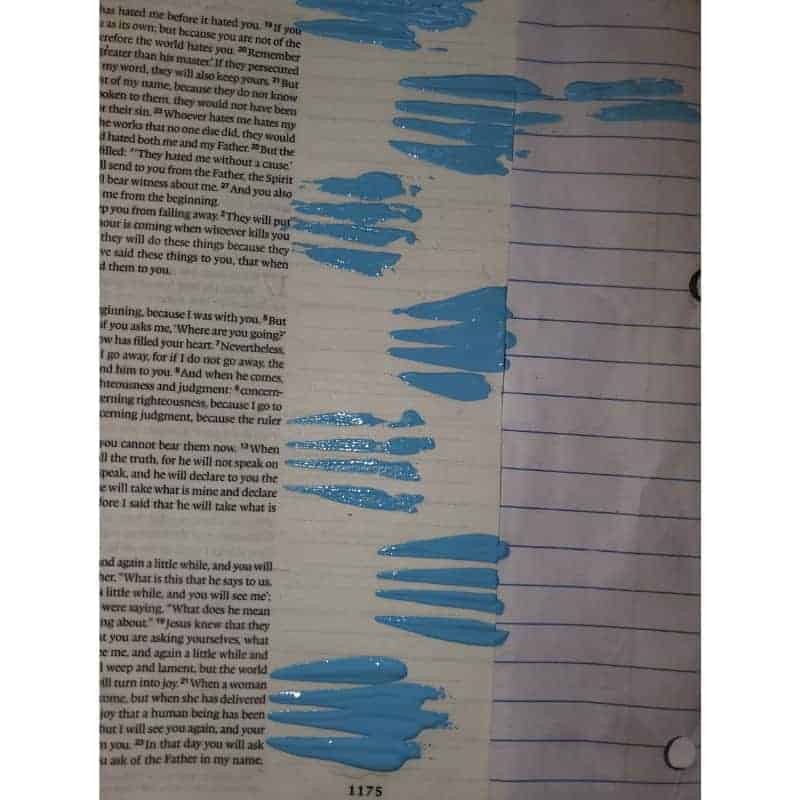 Next, I used the metal fork to do the same thing with silver paint stamping up and down rather than sideways. I stamped the silver in between the blue fork stamping patterns.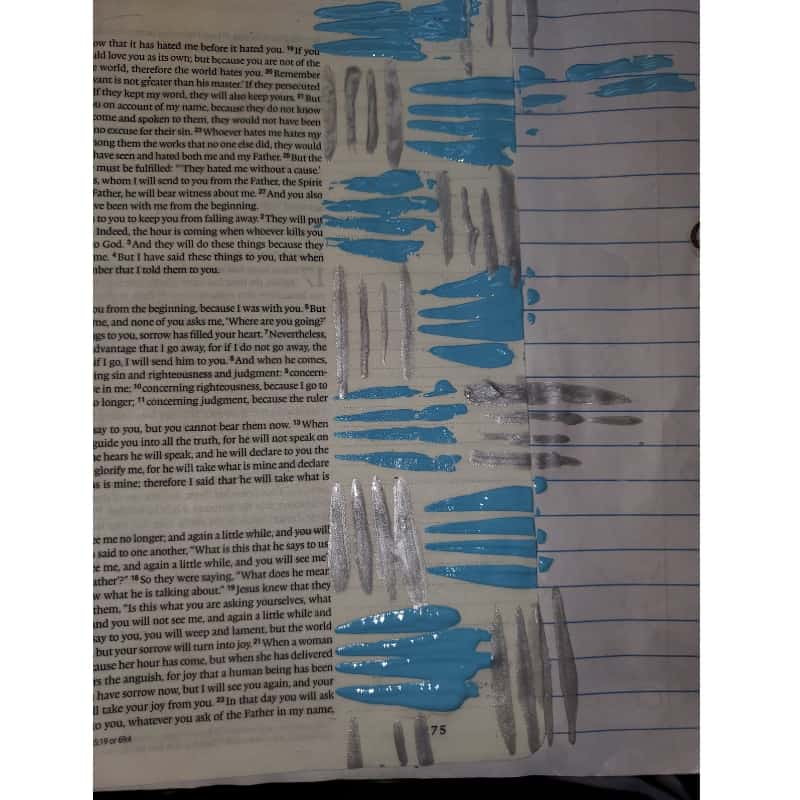 From there, I dipped the fork edges in the paint and stamped some random dots on the opposite page in both the blue and the silver.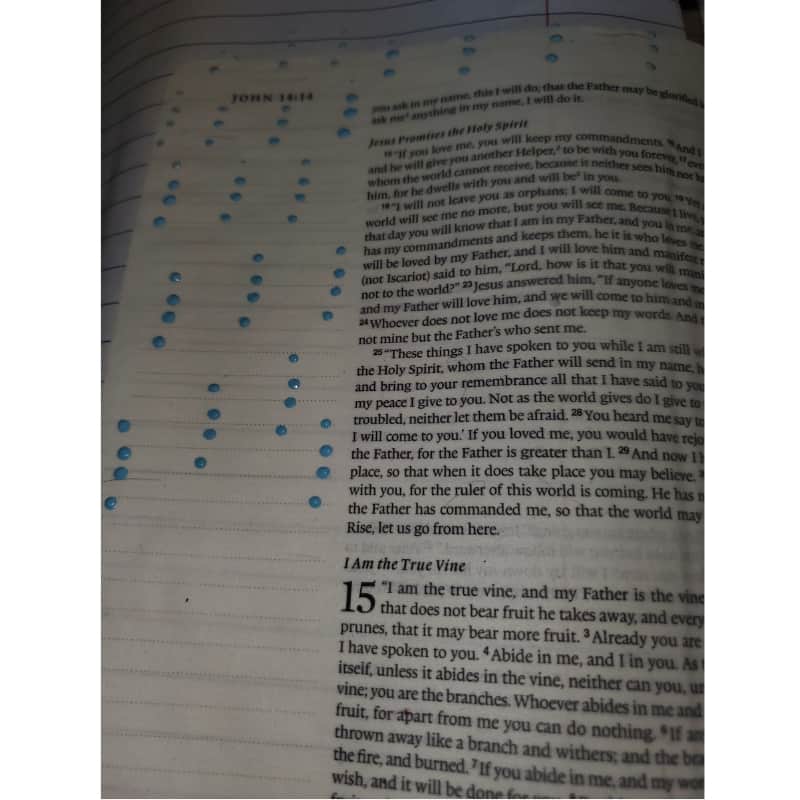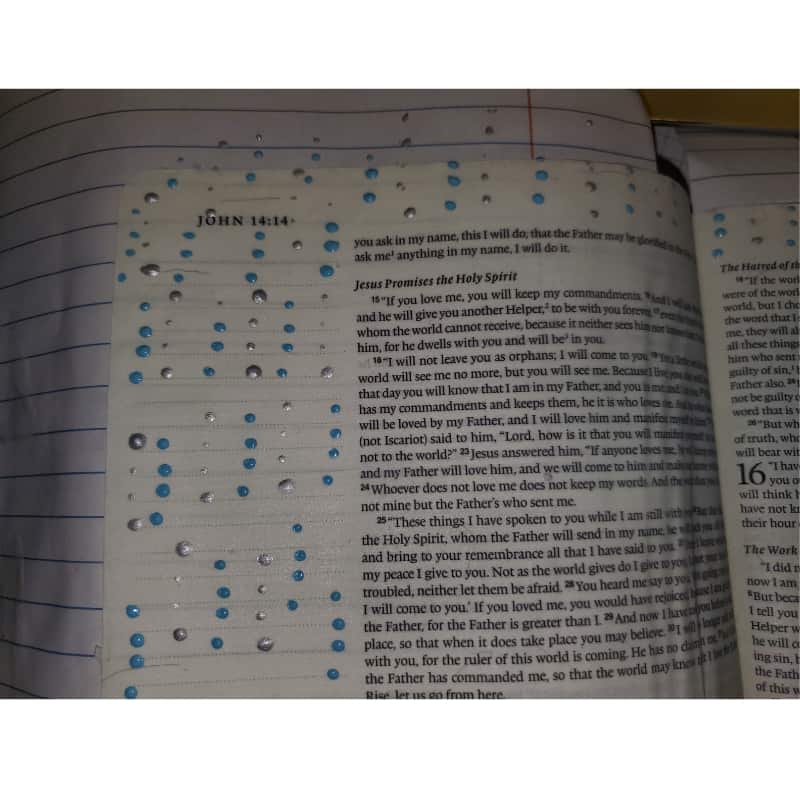 I still had some paint left and a bit of white space so I decided to use the fork tine ends and try some squiggles.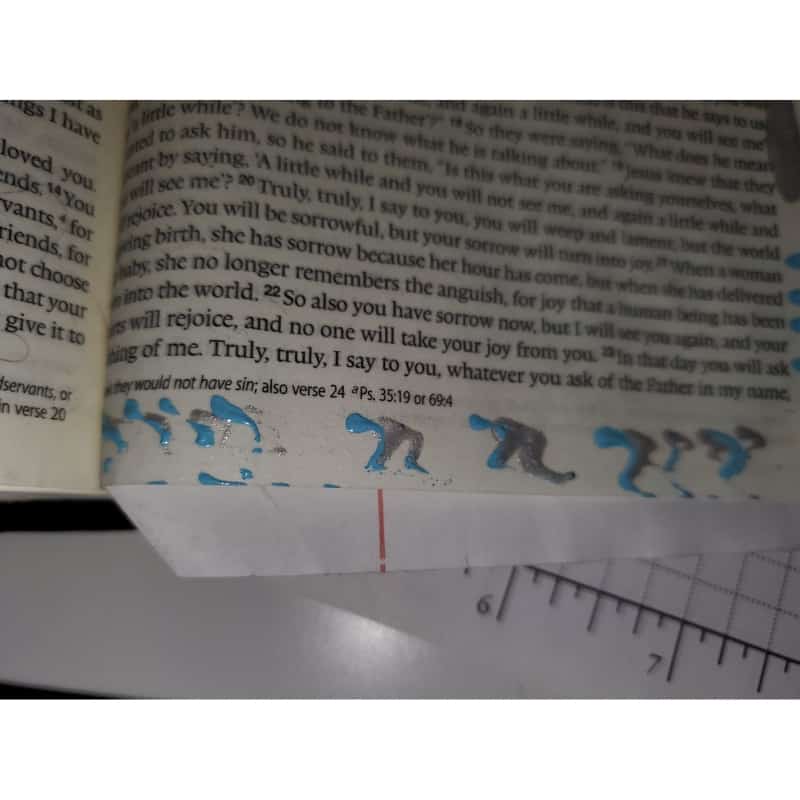 To finish the page spread, I added some scripture text and use both black (Fude ball) and white gel pen to add some details.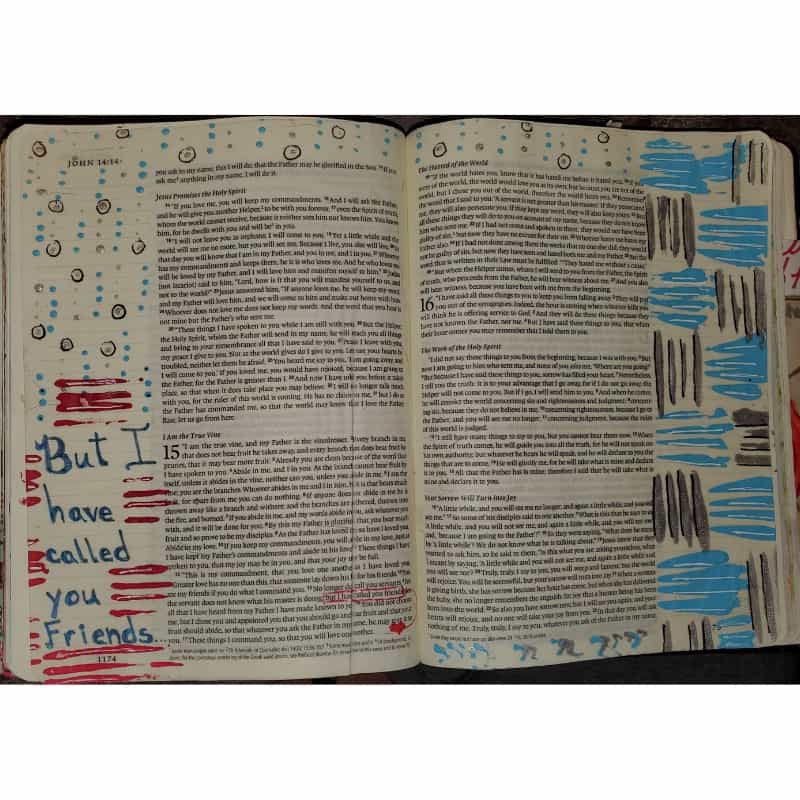 Is it the best looking page I've ever done? No way. But, I had so much fun trying new things with a fork and paint and reading scripture that I haven't read much before and isn't that what Bible journaling is all about?
See? Bible journaling with household objects can be fun! In the next post of this series, we'll play with bottles, bubble wrap and more!
If you are looking for a wonderful, warm place to grow in faith and your knowledge in scripture, Women of Worth Café is the place for you. Devotions, Bible reading plans, verse mapping, Bible journaling, studies on our Hebrew roots of Christianity, prayer warriors and so much more, all in one place. To learn more, visit Women of Worth Café.
Until next time and because He lives,
Sue