In this next post on our series of Bible journaling with household items, we're going to play a bit with bottles and bubblewrap and toothbrushes!
Bible journaling doesn't have to require purchasing lots of expensive supplies. All you need is some inexpensive paint and your imagination. I love to create my Bible journaling with household items.
(If you missed the last few posts, on Bible journaling with napkins, forks and tea or Bible journaling with q-tips, be sure to check them out!).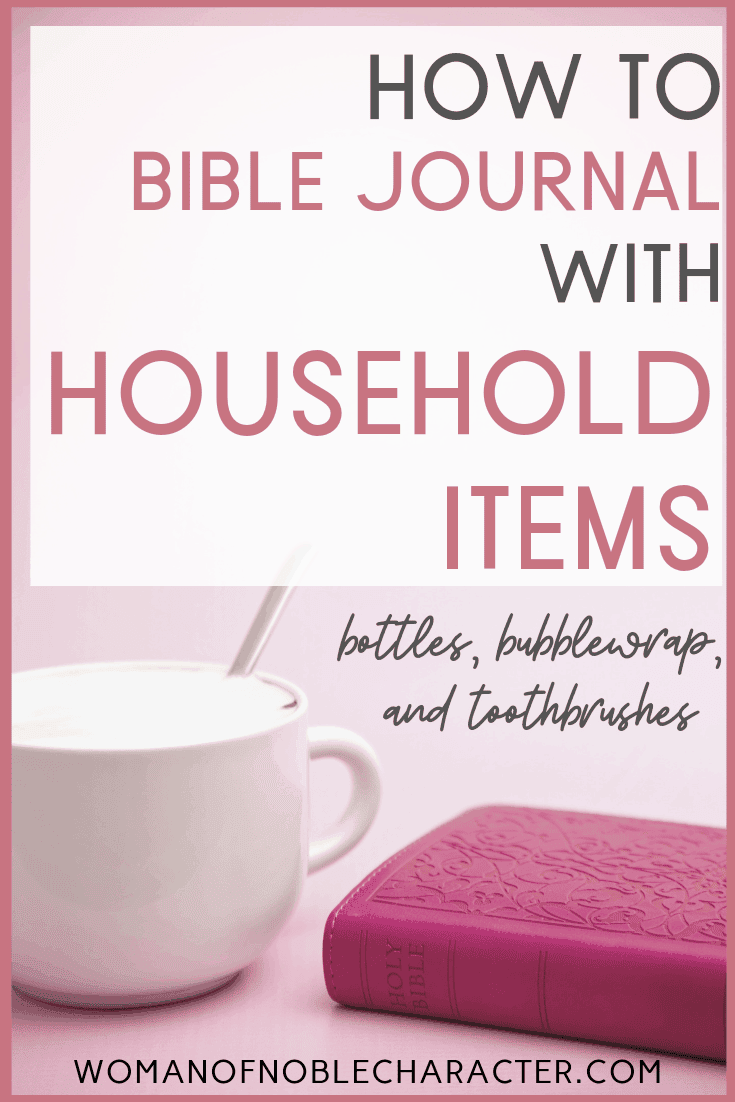 Bible Journaling with Household Items: Bottles, Jars and Toothbrushes
Today, you'll need just a few supplies:
Acrylic paint
Several sized bottles or jars
A palette or a paper plate (I'm so fancy lol)
Bubblewrap
Toothbrush (preferably one you no longer need :D) *I buy mine at the dollar store to keep on hand for art projects.
For our first sample Bible journaling page, I've gathered several different sized bottles and jars and with my chosen colors of acrylic paint, I've added some paint to my "palette".
Next, "stamp" with the jars or bottles. I find it easier to start with the large jars as they create larger circles and are easier to plan your design with.
Roll the bottle or jar edges in your paint and "stamp" with the jar on your already prepped Bible journaling page. (for more on prepping your page, see this post on Bible journaling tips)
Repeat the process with the same jar/bottle until you are happy with it.
DESIGN TIP: Even numbers create symmetry, but odd numbers create interest. An odd number of elements is more effective at capturing your attention, visually. Odd numbers force your eyes to move around the page. That forced movement is at the core of visual interest
Continue with different sized jars and bottles and paint colors.
Next, grab your toothbrush and drag it in a small "pool" of paint in your chosen color.
Then, stick your finger out over your Bible journaling page and tap the toothbrush on your finger to create splatters.
Here's what the splatters look like close up:
Fun, huh?
One of my most favorite things to do after doing the basics of my Bible journaling page is to add the "fussy details". For example, on this spread, I used both my favorite black gel pens and white pens to mimic movement in my circles and add some additional texture.
Adding different sized circles, creating large and medium patterns, coupled with the splatters, which created tiny patterns, gives the design a finished and visually interesting look.
Here's the "final" page. I say final with quotations because I'm not thrilled about how the box highlighting the feature verse came out and still have to fix it. I used gold marker but it turned out "muddy" and looks brown, which won't do, at all (I can be persnickety when it comes to my pages. Although, they are worship, they are personal and sometimes I just want thing a certain way).
For this Bible journaling page, I featured Psalm 139:13-14.
Bible Journaling with Household Items: Stamping with Bubblewrap
The last technique I wanted to share with you is stamping with bubblewrap. I mean, who doesn't love popping bubblewrap, but how often do you stamp with it?
I loooove stamping with bubblewrap. It is soooo easy and allows you to create tons of great-looking backgrounds and patterns.
Simply brush some acrylic paint on your bubblewrap and press on your prepped page.
In this example, I used a variety of colors before stamping.
Once I stamped with the bubblewrap, I added some fussy details such as tiny crosses, dots, circles and, of course, I hand wrote the verse I wanted to feature (Psalm 103).
Each time you receive a box with packaging, look for bubblewrap. There are several different sizes and each give a unique look when used for stamping.
What other Bible journaling techniques using household items can you think of?
Share your ideas in the comments. I'd love to hear them!
If you are looking for a wonderful, warm place to grow in faith and your knowledge in scripture, Women of Worth Café is the place for you. Devotions, Bible reading plans, verse mapping, Bible journaling, studies on our Hebrew roots of Christianity, prayer warriors and so much more, all in one place. To learn more, visit Women of Worth Café.
Because of Him,
Sue