**Please note that this post may contain affiliate links, and at no additional cost to you, I will earn a commission if you decide to make a purchase after clicking through the link**
The Dating Divas
Every now and then, you come across a great resource or website that you just HAVE to share about.  Much like a terrific restaurant that you visit and you tell your friends, neighbors, even post on Facebook about your delicious meal.  When I come across a resource that I feel would benefit my readers, I just HAVE to share.
I've been a customer of The Dating Divas for a few years now, but other than in my Faith Filled Home program, I haven't spilled the beans yet about what an amazing site this is.
I initially found The Dating Divas when I was looking to create a fun, romantic scavenger hunt for my husband.  After an internet search, I stumbled across their site and was amazed at the sheer amount of material and offerings that they have.
From Reclaim Your Marriage, a 10 week program to fun printables to let your husband know you love him and from complete, detailed date night ideas and games, they truly have it all for marriage and even quality time with your children!
Whether your marriage is struggling or in a rut or you are just wanting to spice things up a bit in a fun, playful or romantic way, The Dating Divas has something for you.  The best part?  The prices are incredibly reasonable and all of the products are downloadable  – so you can plan a last minute special night for you and your hubby without waiting for the postman.
Here's a few of my personal favorites: (product descriptions are from The Dating Diva website)
Marriage Resources
Marriage Makeover Conference
We all have thought about those fun marriage conferences that cost thousands of dollars in super exotic locations! But we all had the $ signs run through our minds at full speed and quickly dismissed that fun idea too, right? Not anymore! Your readers can bring the best of the best speakers out there to the comfort of their own homes and it won't cost them a fraction of the costs. They can snuggle up and tune in to awesome marriage, parenting, money and many other topics of advice! It is the best decision they will ever make!
365 Ways to Ignite the Spark
Remember that SPARK you had as newlyweds? The giddy, happy feeling where you just wanted to BE with each other, no matter what you were doing? Being crazy in love is one of the best feelings on earth, and we hope that "honeymoon feeling" lasts FOREVER! It takes work to stay madly in love, and sometimes, we just get lazy. Life takes over – the job, chores, kids, school, and everything else. For anyone who can say, "I want those love fireworks back!" we have the perfect tool to help you rekindle the spark of love. All it takes is a little effort each day, and we've done most of the work for you!
Open When Letters
Have you ever been at a loss to write the perfect love letter for your spouse – the perfect sentiment when they need a laugh, a hug, or support after a bad day? We thought so! If you've spent any time on Pinterest, chances are you've seen pics of handmade "Open When…" Letters. (And if not, read on for the best way to write a love letter, ever!) Now, The Dating Divas have created the ultimate DONE-FOR-YOU Open When love letters kit, that will make your spouse feel like the only one in the world for you!
For Date Nights –
52 Dates
Date night is always fun, but planning date night is not always so easy! That's why we've come up with 52 fun, new and exciting date ideas all prepped and ready to go! Just add your date cards into a 4X6 photo album of your choice and make weekly date night a priority. Add pictures of you and your sweetie on each date to create a fabulous book of date night memories!
Year of Sports Date Ideas
 
Things are about to get hot and sweaty in your marriage! Get ready to hit the court, field, rink and pool- It's GAME TIME! Our printable Sports Dates ideas pack is a WHOLE YEAR of active dates that will strengthen your body, mind, and relationship. These unique dates will have you playing together all year long!
Around the World Dates
Get ready for an exotic adventure with your spouse, every month for a whole year! Pack your bags and grab your passports, you've got 12 international destinations to see!
Family Resources
Mini Mom and Dad Date Nights
Setting aside time for a mini date night with your kids is the perfect way to get some quality one-on-one time, strengthen relationships, and create lasting memories! Kids thrive off of positive interactions and will be so excited to share special moments with Mom and Dad each month. Now that I have my own daughter, I love providing special experiences that she'll remember. This kit has all of the tools you need to set up future Mom and Dad date nights, and find out what adventures your child wants to experience with you!
Our Love Story For Baby
I'm in love with this adorable baby gift printable!!! This amazing baby book for parents-to-be has developed into something way beyond my dreams! What started out as a cute printable for a growing family has turned into a keepsake that will be treasured forever by your babies! Yes, your babies!!! What am I talking about? This is an amazing printable journal for your baby, stick around and I'll tell you all about it!
Miscellaneous or Just Because
7 Days of Spoiling Your Spouse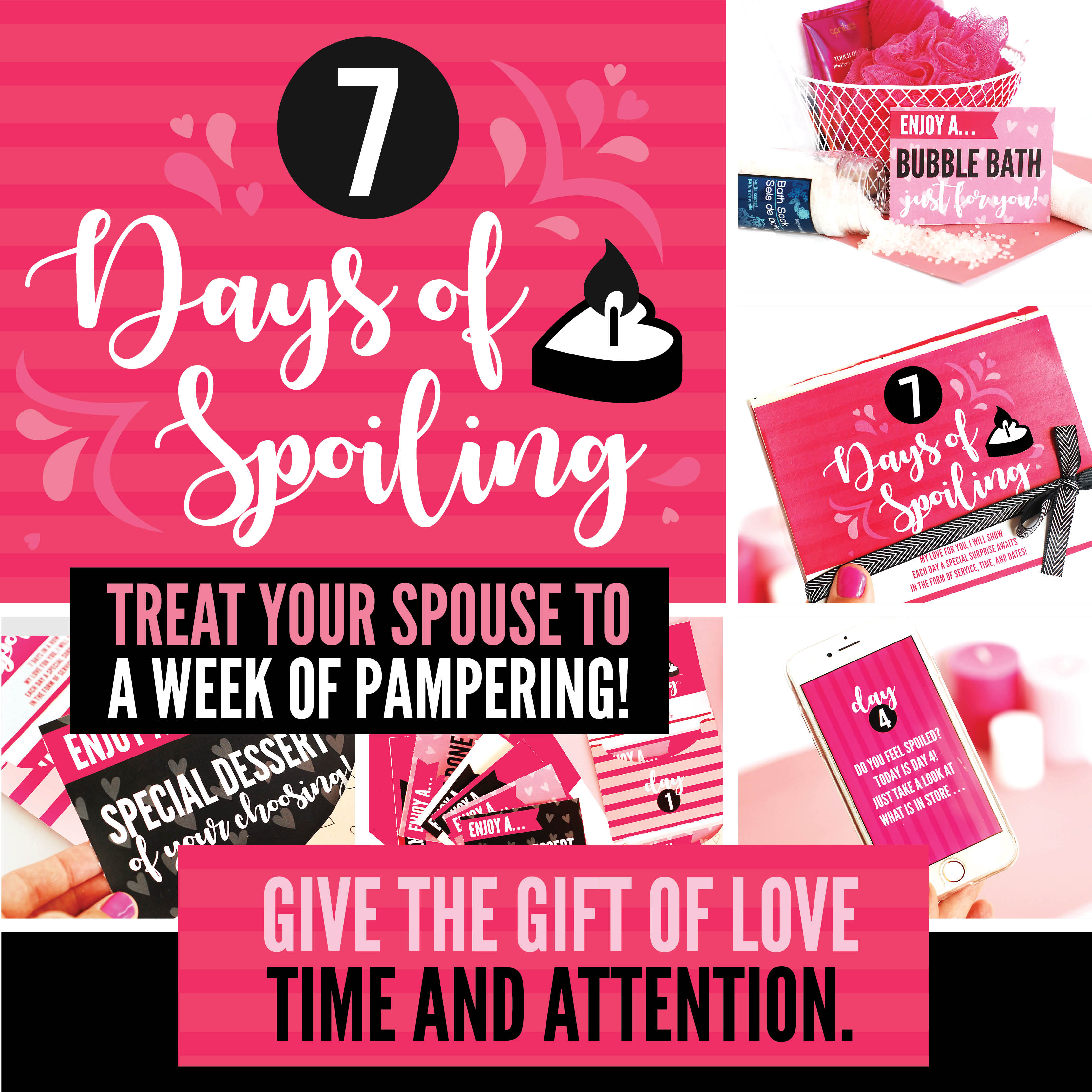 Shopping for your spouse for special occasions can be tough. What can you get them that they don't already have? My husband and I are really trying to focus on gifting each other experiences rather than things.  We are really trying to pull our focus away from material items and more on things that will strengthen our relationship. This weeklong spoil your spouse surprise is exactly what I am talking about! Each day for seven days you surprise your spouse with an act of service or an activity that you do together. A perfect gift idea that will #1 Make your spouse feel loved #2 Give the gift of togetherness and #3 Last all week long!
 
I don't know about you, but my wish list is a mile long.  I've already purchased quite a few items from The Dating Divas and each time my husband just loves the surprises that I have planned.
What would you choose?
Looking for practical ways to put God at the Center of Your Marriage?  Consider registering for my in-depth course, The God Centered Marriage.
Because of Him,
Sue